Quad Cities & Henry County Service Area
Boone's Lawn Care is a locally owned business run by Josh Boone. Boone's Lawn Care is a lawn maintenance company that specializes in keeping your lawn in the best shape it can be through all the seasons. We offer the following services:
Spring Crabgrass Pre-Emergence - This fertilizer application should be put down first thing, early Spring. It can help prevent crab grass from even germinating. It can also prevent goosegrass weeds. The application we utilize is a slow release nitrogen product. It should be applied in early March through early May at the latest.
Broadleaf Control & Yard Feed - This fertilizer application also needs to be applied in the Spring as soon as you see Broadleaf weeds start to show. Boone's uses a combination weed & feed granular on your Henry County or Quad Cities yard to kill any weeds off while giving your yard a boost. This part of our program should be applied in Early May and on.
Grub Control - Sometime around the middle of Summer insects and grubs can start to take your yard over. Their larvae hatch and will feed on your green grass. Let us tackle this problem before it begins with our mid-summer application. This should be put down sometime from June through the beginning of August.
Root Rejuvenation & Summer Recovery - After the heat of summer this fertilizer will slowly release nitrogen into your lawn to boost it. This fertilizer application can promote the growth of roots and aid in future lawn development. We can also aeriate your yard as it is recommended at the same time as this application. We recommend this round of our program occur from early in September through October.
Winterizer - Help your yard store food and water through the Winter months and feed your lawn into the Spring with our winterizer fertilizer. You will notice in the Spring your Quad Cities or Henry County, Illinois yard will green quicker. Apply this fertilizer at the end of mowing season, usually around November or early December at the latest.
Other Services in the Quad Cities & Henry County, IL
We also have a bunch of other services we offer in the Quad Cities and Henry County: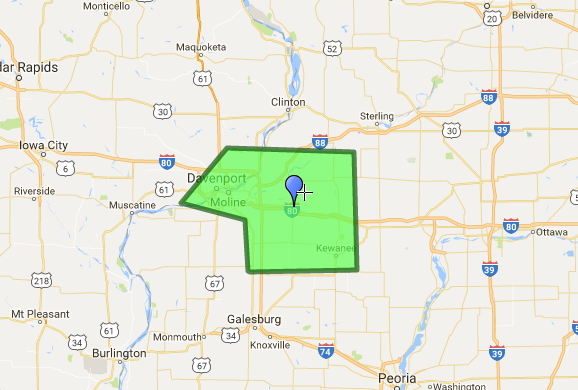 Residential & Commercial Lawn Mowing
Snow Removal
Seeding & Overseeding Lawns
Sod Laying
Core Aerification
Fall Cleanups
Mulching
Bush Trimming
Lawn Care Treatments
Dethatching
We are proud to serve all of Henry County and part of Whiteside County in Illinois and the Illinois and Iowa Quad Cities listed below, and the surrounding areas:
Henry County, IL

Alba
Alpha
Andover
Andover
Annawan
Annawan
Atkinson
Atkinson
Bishop Hill
Burns
Cambridge
Cambridge
Cleveland
Clover
Coal Valley
Colona
Cornwall
Edford
Galva
Geneseo
Hanna
Hooppole
Kewanee
Loraine
Lynn
Munson
Orion
Osco
Oxford
Phenix
Weller
Western
Wethersfield
Woodhull
Yorktown

Whiteside County, IL

Erie
Fulton
Prophetstown

Quad Cities Area

Bettendorf
Davenport
East Moline
Moline
Rock Island